Friday Favorites: Chick Flicks
I'm not ashamed; I'm an avid chick flick watcher. And yes, I mean those gushy love stories that would probably make at least half of the male population throw up. In all my years of watching these movies, here are the ten films I have liked the best.
Endless Love (2014)

When this movie was released in 2014, I feel like I remember seeing the trailers and advertisements everywhere. It's a good film and has some really cute scenes – such as the couple riding in the back of a pickup truck through the woods together. This film's even got an angry and unimpressed father who tries to damage his own daughter's relationship. Though not my favorite, it still deserves to be on this list.
The Vow (2012)
This flick has a definitely unique plot. Instead of two people falling in love, it starts off with them already being in love. One of them develops severe memory loss and the whole movie she has to be convinced to fall back in love with her husband. It's probably one of the saddest films on this list, but worth it if you're looking for something a little different from the stereotypical love story.
The Best of Me (2014)
I like this one because it employs the flashback technique: it displays a couple's relationship in the present day and then flashes back to the story of how they fell in love and got there. There are multiple shocking plot twists and they're not all pretty. It depicts the reality that we all have to face: authentic relationships are not fairy tales.
The Last Song (2010)
If nothing else, this 2010 film sparked the real-life relationship of Liam Hemsworth and Miley Cyrus, who despite a small break, are together to this day. It brings in teenage love and family love, and is one of the first "chick flicks" I ever watched. Though not my favorite Nicolas Sparks film, it's still worth consideration if you're ever having a marathon.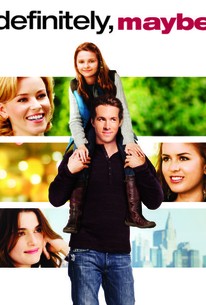 Definitely, Maybe (2008)
A recently divorced man's 11 year old daughter wants to know the story of how her parents initially fell in love. Instead of being straightforward, the man (Ryan Reynolds) tells his daughter the tales of three of his most treasured relationships to make his daughter guess which one was her mother. The audience gets to hear three cute and inspiring love stories all in the same film, and gets to guess along with the daughter at the outcome of each.
The Longest Ride (2015)
This film stars Scott Eastwood and Britt Robertson and came out in 2015, making it the newest movie on this list. It may be your common "country love" story as it takes place in North Carolina, but it contains essentially two plotlines in one film and makes you root for both couples despite all the obstacles they face.
The Notebook (2004)
Would this list even be considered credible without this film somewhere on it? It's the classic story of "forbidden love," almost like Shakespeare's Romeo & Juliet in certain ways. Plus, Noah and Allie are one of the most iconic on-screen couples of our time…think about how many scenes you've seen from this movie on social media alone.
Safe Haven (2013)
A girl who runs away from a dark past and a guy who just lost his wife. Seems like the perfect match, right? This is one of those movies I could probably watch for days in a row and still not be bored of it – 10/10 would recommend for your next chick flick spree with your girls.
A Walk To Remember (2002)
The popular boy is forced to associate with the outcast girl… you can guess what happens from there. It may sound boring, but for some reason I've always loved this one the most. Maybe it's something about how protective the boy becomes of the girl, or maybe how the girl is unquestionably confident despite everyone else deeming her as weird. I've seen a lot of these movies since I first saw this one, and still consider this one my favorite…that's saying something.